The Big Sky Rally

2011

The Good, The Bad and The Ugly

Big Sky Montana

Page #2

Now here is were things get a little weird.  Well, for me anyway.  I am at the Brockway information sign.  I know my next bonus location is southeast of me and little Ms. Garmin telling me I need to go north 38 miles turn right to another road and then go south for god knows how many miles.  I don't think so!  I reset the route in the GPS.  Same story!  I know this is not right but I don't really know where I am in the big picture.  I figure my best bet is to get the computer out and look at the map. 

I am in the middle of bug country so I don't want to do it here.  I look to the west and up on a hill, the only thing around for miles is a street light in the parking lot of a bar.  How bad can it be right?  I mean it is 2230 on a Saturday night.  I am sure these folks there are friendly enough!  I head towards the light.  The parking lot has two. maybe three cars in it.  I am good.  I get my computer out and get it fired up.  About the time I get Map Source running, out comes this bear of a man from the bar.  He lumbers over in my direction.  I am looking at him and looking at my computer.  He is looking at me and I am sure I am on the wrong brand of motorcycle to be in his parking lot. 

He gets about 10 feet away from me and asks me how I am doing.  I tell him I am a little lost and I just need to look at my computer for a couple of minutes.  Long story short, the guy was really nice and helpful.  He did not mind me being in his parking lot at all!  This little episode probably cost me another 15 minutes.

Next bonus was the south end of the Byway route located in Terry Montana.  I needed to take a picture of the informational sign for the "Big Sky Back Country Byway Route."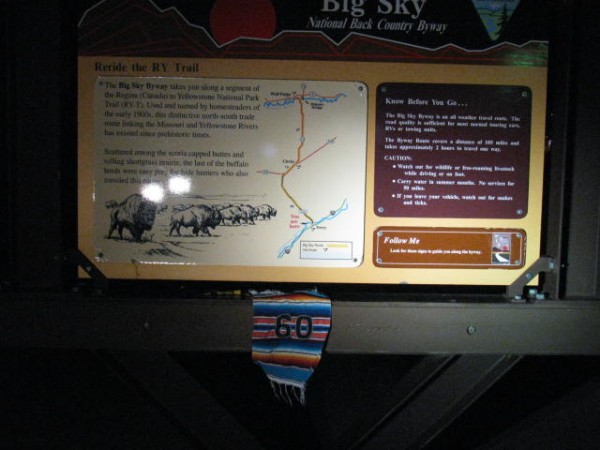 My next bonus was located in the big town of Rosebud.  I had to get a picture of the headstone for Carl Hammerstrum.  The directions to the cemetary were very detailed so I figured at 0100 in the morning this one might be tough to find.  Kind of had some flash backs to the Cal24 and the headstone hunting we did!  With the directions provided this was a pretty easy cemetary to find.  Took me about 5 minutes to find the headstone.  Took my picture and got out before the ghost got upset with me!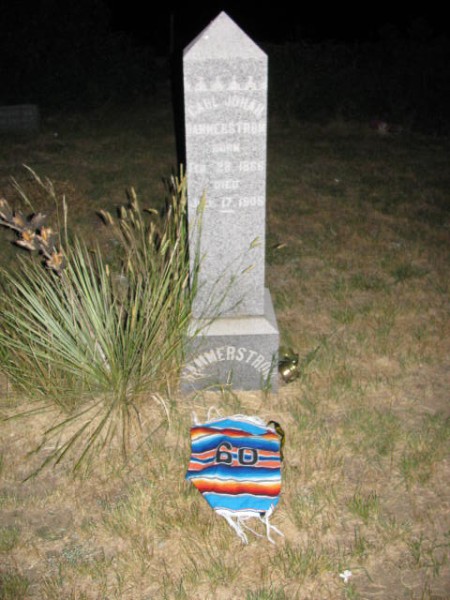 Laurel Montana was the location of my next bonus.  I needed to take a picture of the "Canyon Creek Battle" historical marker.  I arrived at the marker around 0400 hours.  I was getting pretty tired and losing focus.  I took a 15 minute break and walked circles around the parking lot and ate some food.  I could feel myself waking back up and wanting to ride.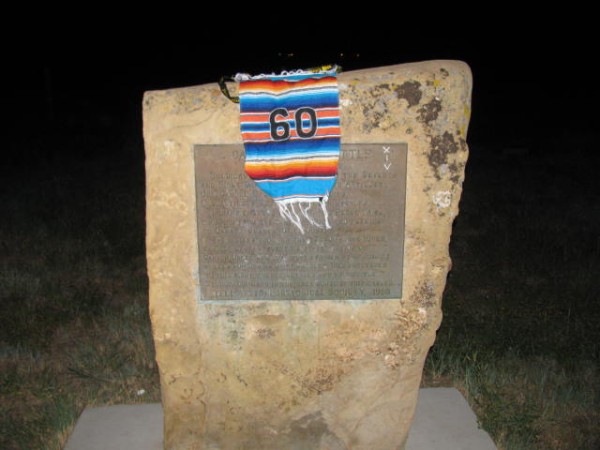 I know this is the part of my rally where I have a bunch of bonus locations pretty close together.  This is a good thing because keeping busy when the sun is coming up is important.  One thing I did do on purpose was run my route clockwise so the sun would always be at my back. 

My next bonus is also in the area of Laurel.  It is the "Twenty Foot Tall Cowboy."  We have a twenty foot tall indian in my home town so I knew I was looking for one of the "Muffler Men."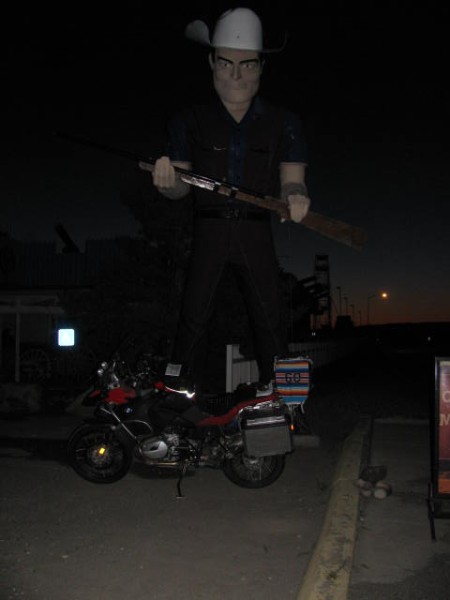 Next up was the "Ooga Booga Man Ski God" in Joliet.  Ya, I don't know!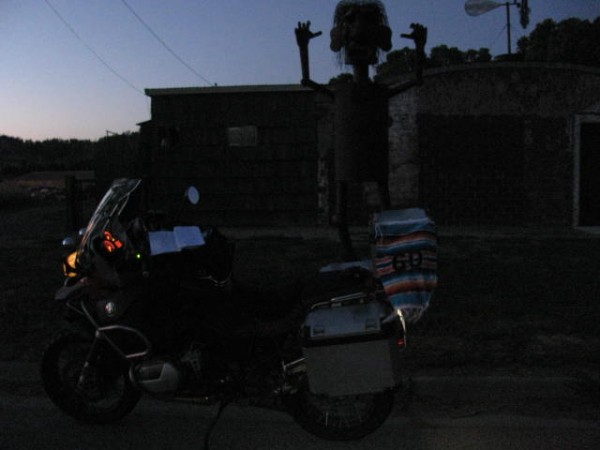 The next town I was headed for was Red Lodge.  I needed to get a picture of the "Snow Creek Saloon."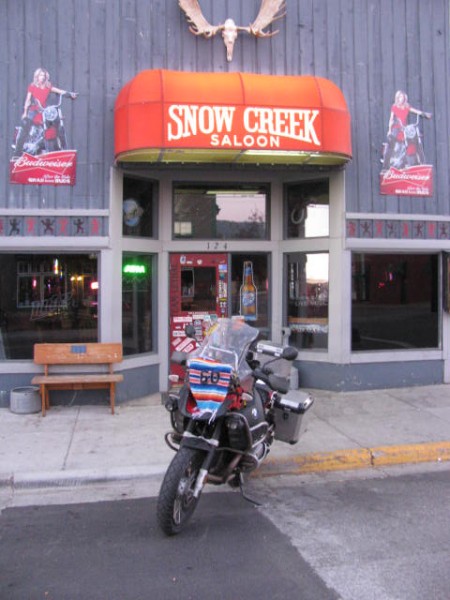 I had three more bonus locations to pick up before heading to the finish line.  The "Crazy Mountains" historical marker in Greycliff, "Sacagawea on the Yellowstone" in Livingston and "The Herd of Elk" in Bozeman.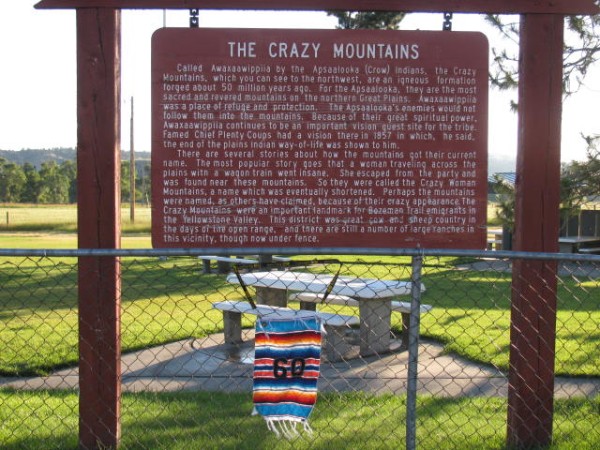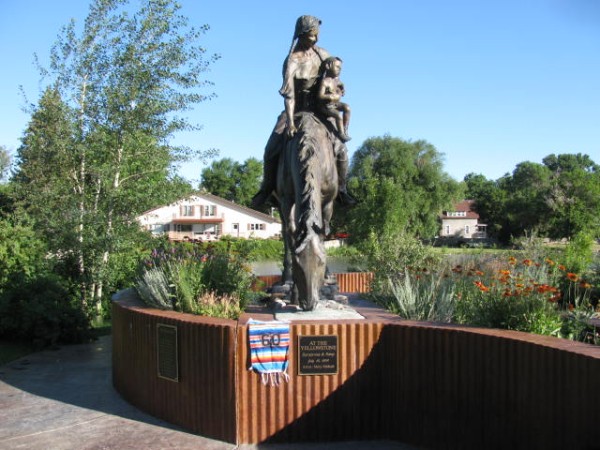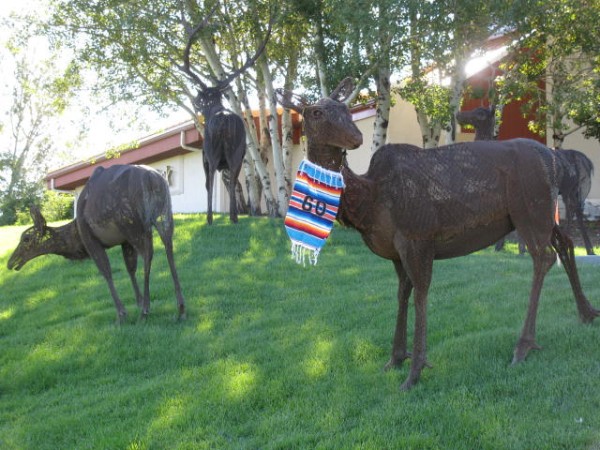 After getting the "Herd Of Elk" all I had left to do was get to the finish line.  I had plenty of time to do it.  I took the above picture at 0841 hours.  I had 48.5 miles to go.  I arrived at the finish line at 0930 hours.  I had riden 1390 corrected miles and collected 11240 points.  As you can see by my finish time, I had plenty of time to go and collect those two bonus locations I dropped.

These next three pictures were taken at the finish line by Steve Hobart.  You can view all of the pictures taken by Steve
here
.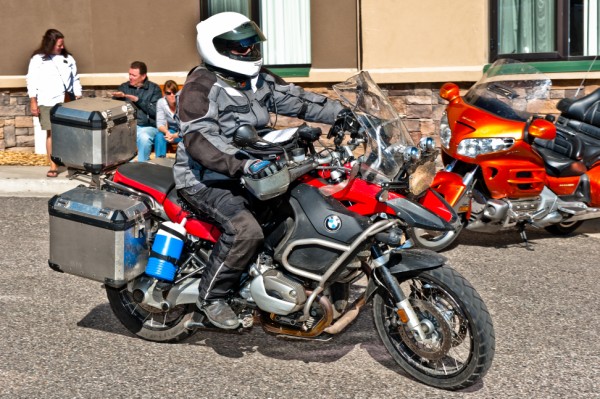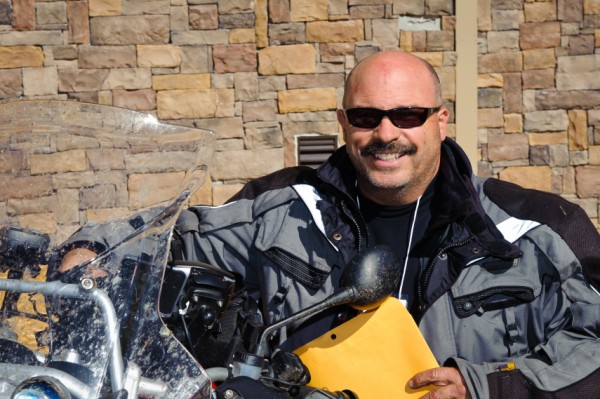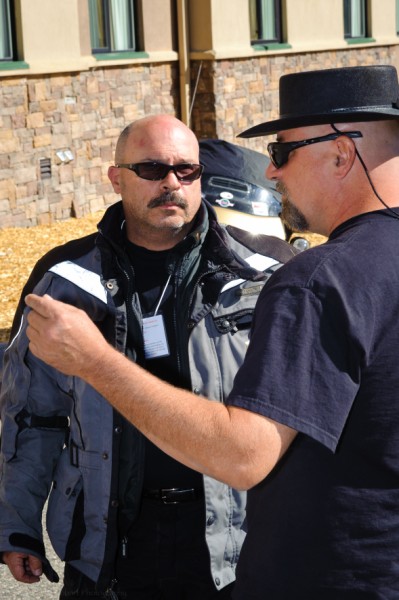 This ride report is very long so I am going to rap it up here.  Scoring was easy and I did not leave any points at the table.  The atmosphere at the finish was a little tense.  I found out right away why.  A rider had a fatal accident Saturday night.  This was grave news!  The rider was not at fault and it had nothing to do with being tired.  It was just a freak accident.  I did not get to meet Dick Fish while I was at the rally; however, if I had I am sure I would have been the better for it.  I know Dick Fish will be missed in the LD community.  God Speed Mr. Fish!

The awards banquet was great!  The food was wonderful and there was plenty of it.  Bob and Sylvie put on a first rate and very enjoyable rally.  I wish I had more time to ride around in the state of Montana and see the sights I missed by routing to the east.  I have a feeling I missed the better parts of the state.

I finished 14th in the unlimited class which was just right in the middle of the 32 that started.  If you want to view the results page click
HERE
.  I hope the Big Sky Rally continues.  If it does, I will be there next year!
I headed home Monday morning leaving Montana at 0700 and pulling into my garage at 1245 Tuesday morning.  I will add another page regarding the ride home.  It was fun, long and uneventful.

And just as a little post script......Not all of the pictures shown here in my ride report are the pictures used for scoring.  I picked the pictures I wanted to show you.  After all, it is my ride report!